News Release -EurekAlert-
What's EurekAlert!?
"EurekAlert!" is the world's largest online news service provided by the AAAS (American Association for the Advancement of Science). In addition to delivering scientific news from universities, medical institutions, government agencies, companies and various research institutes to the media, after the ban on information is released, the news is also available to the general public on the EurekAlert! website.
URA Office has a contract with AAAS, and it is possible to send release articles without any limit.
This is a good opportunity for the researchers to know the results of their research widely, and we hope that you will take advantage of it.
Features of English release articles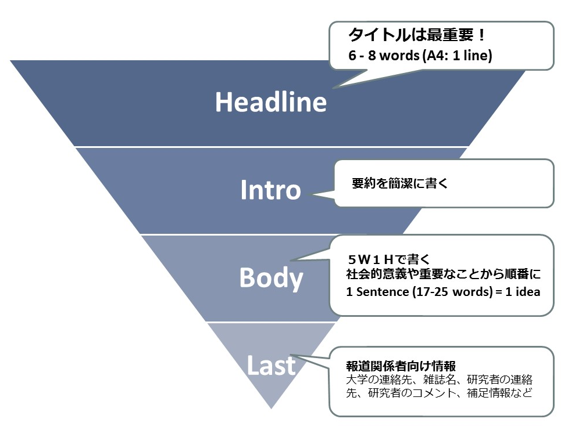 Use easy-to-understand words and sentences!
Foreign journalists are mainly from the social department, and there are not many scientific journalists yet. For this reason, the article should be written in clear language and plain text.
Important things first!
Important things such as the social significance of research results (social contribution and influence) shall be written first. It is an inverted pyramid type sentence structure. The order is 1) social contribution and impact, 2) research results, 3) research background, 4) details, and finally 5) detailed information on research institutions and researchers. If you don't catch the interest in the first part of the sentence, the article won't be read.
The title (headline) and summary (intro) are most important because they are posted on the top page and headline. Give a concise title that has a high impact. The title must fit within 6 to 8 words (90 characters maximum).
Media files
Images (up to 3), videos, and audio can be posted as attachments. One of the images will be featured in the list along with the title and summary. Since images and images showing researchers are preferred over tables and graphs, please provide one that will be an eye catch.
In the URA Office, we are happy to help you create release articles.
For more information, see "Application for release at EurekAlert!".
Press Releases
Feedback
Here are some comments from faculties who used the overseas press release service.